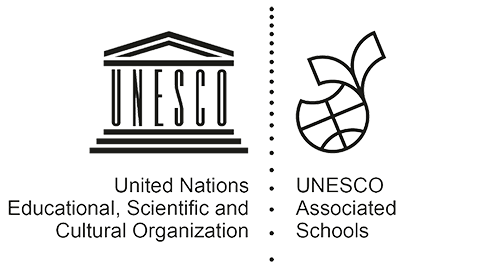 Meito High School is a public senior high school located in the eastern part of Nagoya serving approximately a thousand students. Meito was established in 1984 and it has an innovative and unique program of English instruction and a successful Global Major program. Meito High School has, fortunately, always had a teacher exchange program with Los Angeles Unified School District. Los Angeles teachers at Meito teach a variety of courses in English including conversation, discussion, world affairs, public speaking and participate in many aspects of instruction and examination. Los Angeles teachers are part of the greater culture of Meito High School.
 Meito offers students a choice between the General Major course of instruction and the Global Major program. The General Major course is rigorous and broad in scope so almost all Meito General Majors enter a university after high school. The Global Major incorporates the principles of education for sustainable development in units of study and in teacher and student training. Global Majors have a more rigorous English program. Besides multiple descussion and reading classes, an integrated studies class (a multimedia project-based class for the third-year students), and public speaking and debate classes. Finally, Global Majors and General Majors take speaking and conversation tests in English throughout the year. Meito High School has aligned curriculum goals with greater global awareness and stewardship and has embodied the UNESCO's ESD principles in both the General Major and Global Major curricula.
 Class Organization ( 40 students / class )
Grade
1st year
2nd year
3rd year
Total
General Major Course
8
8
7
23
Global English Major Course
1
1
1
3
Total
9
9
8
26
 The education at Meito is dynamic and engaging. Every year, exchange students and teachers from abroad are welcomed and become part of the greater culture of the school. There are many Meito students who have lived abroad and returned to Japan, bringing with them a different perspective on the world and society. Meito high school has a sister-school agreement with SEONGNAM Foreign Language High School in Korea and hosts an annual visit by students from SEONGNAM and in exchange Meito visits SEONGNAM as well. As part of the Global Major integrated studies, students exchange e-mails and discuss their viewpoints on global issues with students at SEONGNAM. Meito students participate in many public performance events such as several speech contests including Meito intramural Speech Contests, NANZAN University Oral Interpretaion Festival, and NAGAKUTE City Speech Contest. The school holds International Day in June and December to welcome students from other countries and enjoy cultural aspects of other countries. Meito is truly a global high school that is always seeking opportunities for exchanging cultural experiences and adapting to meet future challenges.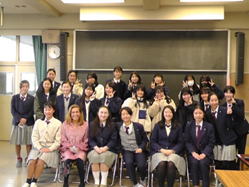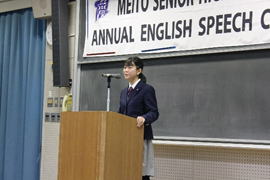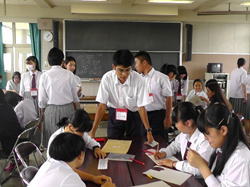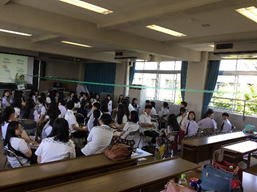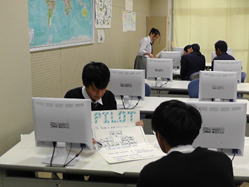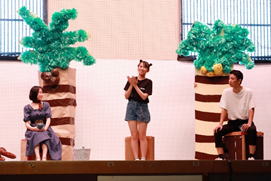 School Motto
 Meito's motto is "Go Global ! Go Higher ! Go For it !", which embodies the spirit of the education referred at Meito. Meito's mission is to seek global experiences and perspectives for higher ideals and for growth and development of the individual.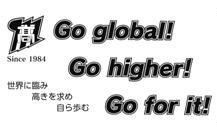 School Events
 Meito High School offers many events and activites throughout the year for students to express their talents, creativity, team spirit, and school pride. For example, Meito Festival is an event in which every class and student participate in dances, classroom exhibits, and concerts. In Meito Art Jam, various clubs display and perform music, dance, Noh (Japanese traditional Noh play), fine art, and drama for the greater community. Several sports events are also held, in which students cooperate and compete to build a stronger classroom and school culture. In winter Meito hosts the annual Meito English Speech contest, where contestants compete in front of judges from the local universities.